Duo Exhibition: Michelle Marcuse – Carrying the Dreamer, Yvonne Love – The Naming of Islands
Posted on: Monday, April 1st, 2013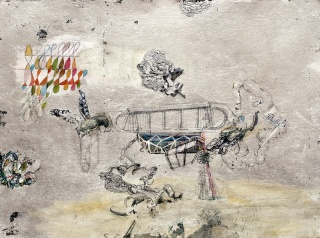 Michelle Marcuse | And Rare Things To Be Thankful, 2013 | Pen, ink, pencil, gouache on silver leaf alloy on Japanese paper | 12" x 17"
Michelle Marcuse
Carrying the Dreamer
Yvonne Love | Untitled, 2012 | Acrylic paint, modeling paste and resin on claybord 30"x41"x2"
Yvonne Love
The Naming of Islands
April 5 – 27, 2013
Artist Reception, April 6, 5 – 7 pm
First Friday, April 5, 6 – 8:30 pm
LGTripp Gallery is pleased to announce the exhibition of works by Michelle Marcuse and Yvonne Love in their first solo shows at LGTG. Marcuse is represented by the gallery. Her work was exhibited in the Premiere Exhibition in 2010 and Works on Paper in 2012. Love was included in the RSVP 3 invitational in 2012.
For many artists the act of making is contemplative and introspective. There is an intimate relationship between artist and art as they explore both their media and the world around/within. Both Michelle Marcuse and Yvonne Love rely heavily on a dialogue with their work and their process. They are explorers enticing the viewer to join in on their journey and intimate conversation.
Inspired by a transcendent experience, Marcuse's work reflects a mystical quality as well as a spiritual interest in things unseen. When describing this inspirational event Marcuse states, "It left my world in unidentified matter exposed to light and dark shafts where the unimaginable existed within shifting currents. I had become a traveler transitioning into a magical environment, which involved compelling movement." Michelle Marcuse's inquisitive work creates a dreamlike narrative of dynamic, swirling forms. Almost surrealistic, the predominantly monochromatic drawings present a sense of timelessness as well as nostalgia. In her most current work, bright splashes of color dissect the image field, vividly jumping from the picture plane and encouraging the viewer to delve deeper into this emotional landscape which itself is untethered by time or space.
Michelle Marcuse is a Philadelphia based artist originally from South Africa. Marcuse has exhibited in New York, Chicago, Philadelphia, Scottsdale and Florida. Her work is included in corporate and private collections across the country and abroad. She was awarded a residency at The Vermont Studio Center in Johnson, VT. In 2008, Marcuse's paintings were featured in the New American Paintings, Mid Atlantic. Marcuse studied at the Shenkar College for Fashion and Textile Technology in Israel, at The Michaelis School of Fine Art in Cape Town, South Africa, and at the Tyler School of Art in Philadelphia. She works as a teacher and regularly conducts workshops in contemporary encaustic techniques.
Yvonne Love employs nontraditional materials in her works such as glue and modeling paste. Straddling the realm between painting and relief sculpture, her works have a cellular feel as small shapes extend from and define the surface. The resulting organic forms play with the notion of "drawing space and holding form." Love's work reflects the intimacy between artist and medium. Her work is contemplative as she explores the boundaries and contours that form her artwork. Yvonne Love explains, "This current series of works delve into quiet memory and employ a play on repetition that offers both a meditative state as well as eliciting a tone that is simultaneously of the body and the ocean." The result of quiet reflection, these peaceful works peak the viewer's tactile and visual interest.
Yvonne Love holds a MFA from the University of Pennsylvania and a Bachelors of Design in Art Education from the University of Florida. She received grants from Pennsylvania Council on the Arts, Penn State University, Artsbridge, The Michener Museum, and the University of Pennsylvania. Love's work has been included in exhibitions across the Northeast and internationally in Italy. Her work is in corporate and private collections. Love lives in Chalfont, PA, and is senior lecturer at Penn State Abington College.