Juri Kim – The Harmony of Chaos, Spencer & Imler – Assembled Painting on Paper, January 24 – March 15
Posted on: Wednesday, January 22nd, 2014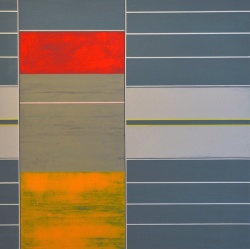 Spencer and Imler 2013 | Assembled painting on paper | 23" x 23"
Spencer & Imler
Assembled Painting on Paper
JURI KIM – The Harmony of Chaos
SPENCER and IMLER – Assembled Painting on Paper
January 24 – March 1, 2014
Artists Reception, Saturday, January 25, 5 – 7 pm
First Friday, February 7, 6 – 8:30 pm
LGTripp Gallery is pleased to announce the exhibition of recent works by Juri Kim and collaborative artists Spencer and Imler, in their first solo shows at the gallery. Kim was included in the summer invitational RSVP I in 2010. This is Allen Spencer and Deborah Imler's first exhibition at LGTG.
In this globalized world, artists draw inspirations from a variety of resources. There is a strong diversity of thought and technique that exist in contemporary art. However, although there are fresh expressions and ideas, many artists like Kim, Spencer and Imler infuse this newness with the richness of history, adding their distinct voice to those of the past while maintaining their presence in the now.
Juri Kim's The Harmony of Chaos reflects the artist's interest in the visual world, particularly the night sky. In her words, "I realize that there is a correlation of forces, attraction or repulsion: every star, every planet is in its place, because it could not be otherwise. When I come to this realization, I cannot but admire, in that fixed order, a superior harmony." Driven by the need to evoke this harmony, Kim creates beautiful compositions of color. Although Georges Seurat's Pointillism is an evident inspiration, Kim treats her vibrant dots of paint as unique entities. Her marks flow organically and intuitively in a meditative process that the artist likens to a Zen exercise.
Originally from Seoul, Korea, Juri Kim received her BFA and MFA from Ewha Women's University of Seoul. She later went on to receive a MA and Advanced Professional Study at New York University. Kim has exhibited her work across the United States and Korea as well as internationally. She completed the Artist in Marketplace Program at the Bronx Museum of Arts. In addition, she has participated in a number of residencies including the Virginia Center for the Creative Arts, Henry Street Settlement Artists-in-Residence Work-Space Program, the Edward F. Albee Foundation, the A.I.R. Gallery Fellowship and the Millay Colony for the Arts among others. In 2003 Kim was reviewed in "Art in America," and her work is included in the Henry Buhl Collection.
The pieces included in Assembled Painting on Paper draw from Spencer and Imler's palette of inspiration, which ranges from age-old woodworking traditions to the architectural details of the city of Philadelphia. The dexter side is an abstracted nod to the medieval custom of heraldry as well as inlayed wood veneered marquetry. Strong lines and blocks of chroma dominate the picture plane. Methodically assembled painted paper alludes to architectural drawings of construction projects in the site plan series. Geometric assemblages, in both series, point to something beyond mere appreciation for craft; they are a lexicon of color capturing a rich dialogue between shades and hues of color.
Artists Allen Spencer and Deborah Imler have collaborated since 2005. They have exhibited locally in the Greater Philadelphia Area at such galleries as Bridgette Mayer Gallery and James Oliver Gallery. Spencer and Imler have also been included in group shows in Harrisburg, New Jersey and California. The duo are recipients of the Adam Spandorfer Memorial Award, Albert Schultz Memorial Award, Purchase Award from the Jersey City Museum and the Yvonne M. Kelly Memorial Prize for Mixed Media at the Woodmere Museum's 65th Public Library Juried Exhibition. Their artwork has been collected by the Newark and the Jersey City Museum as well as by a number of private and corporate collections.